American Family Insurance Company - Review of Company History and Services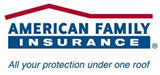 The American Family Insurance Company was formerly known as Farmers Mutual Automobile Insurance Company. The company was formed on a single thought of a struggling insurance salesman, Herman Wittwer. Herman had a strong belief that selling auto insurance to farmers in Wisconsin could help the company earn huge revenues. The reason he presented for this was farmers drove their car less in comparison to city drivers and thus presented low risks to the insurance company. Thus, Farmers Mutual Automobile Insurance Company was established on Oct 3, 1927. The company was renamed American Family Insurance Company in 1963 to reflect the wider customer base it served.
The American Family Insurance Company offers different types of insurance such as auto, home, business, farm and ranch, life and annuities, and health categories. The American Family Insurance company covers a wide market, which includes small towns, rural areas, metropolitan areas and suburbs. The company offers a wide range of products and services in the field of insurance to satisfy the customer needs.
America Family Insurance Company offers Auto Insurance policies in different categories such as Cars and Trucks, Motorcycles, Motor Homes, Boats, Snowmobile and ATV's. The company offers many discounts to its customers in auto insurance category.
The discounts help people save money on insurance. Some of the discounts offered in auto insurance category are:
Multiple Vehicle Discount: This discount is offered if you insure more than one vehicle with the company.
Good Student Discount: This discount is offered if you are a good student or your family includes a good student who has insurance.
Air Bag Discounts: This discount is applicable to a vehicle that comes with factory-installed air bags.
Good Driver Discount or Accident Free Discount: You will be eligible to receive this discount if you have a good driving record.
50+ Premium Plan Discount: This discount is offered to people over 50 years old.
The company also provides unique schemes to its customers to further cut on insurance costs.
Choosing a safer car scheme: Some cars have high repair costs, if they are involved in an accident. This is due to their design and the material used in construction. Small cars and sports cars have a high risk of getting involved in a crash. In all the above stated conditions, your auto insurance premium will be expensive. You need to check with the insurance company which cars attract high premiums. People can also lower their insurance premium by raising their deductible costs.
The American Family Insurance Company's efficient customer relationship has played a major role in building a stable and strong company having over $4.8 billion in policyholder equity.
Related Articles